Journal of Machine Learning Research
Cessation of print-archiving of JMLR
Brookline, Massachusetts, January 13, 2022 – After sixteen years of providing a print-archival version of the Journal of Machine Learning Research, Microtome Publishing will cease providing a print version of the journal after volume 20. Although a print version of the journal was quite important in the early years of the online open-access journal, systemic changes over the last 20 years have changed the situation considerably.
The two original motivations for the print version of JMLR from early in its history are now of limited import.
Cachet of print: It had been the case in the early 2000's that authors – even technically savvy authors like computer scientists – were wary of submitting to "electronic journals". At the time, journals that didn't appear in print were viewed by some potential submitters as deprecated. That opinion has long since passed, in part because essentially all journals are online-only these days; no one subscribes to paper journals any more. Indeed, I expect that potential submitters will not even notice the elimination of the print version.

Archiving: Print on acid-free paper has been (and arguably continues to be) a far more tested and reliable archiving method than any digital format. This fact underwrote the original idea of a print-archival edition of an online journal like JMLR. The spreading of a few archivally printed and bound copies throughout the world seemed to be a prudent step in the early years of online journals. However, given that PDF has now become a de facto standard for distributing journal articles and there is greater attention and commitment to preserving PDFs, and improved infrastructure to do so, the need for a print-archival version is considerably reduced.
Given these changes over the 16-year history of Microtome's handling of the JMLR print edition, Microtome will stop generating print versions with volume 20. (Because of JMLR's switchover to a CC-BY license for articles a couple of years ago, anyone who might want to take up the task of generating print copies is free to do so.) As an adjunct effort, the journal will be working towards systematizing and improving the digital archiving of its articles through standard services with good track records.
JMLR has been and continues to be the premier journal – open-access or otherwise – in the burgeoning area of machine learning. It has been an honor and pleasure to work with the journal over the last years to provide archiving services.
(A small number of back copies of JMLR are still available. See the listings below for more information and ordering instructions.)
---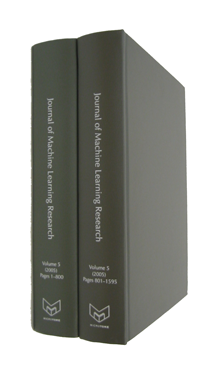 The print archive edition of the Journal of Machine Learning Research is published as part of Microtome's open access print archiving service. This edition contains the entirety of an annual volume comprising all papers published during the preceding calendar year in a single archival, acid-free, library-bound volume distributed during the following year.
Past Volumes

Volume

Volume year

Papers from

Price (excl. shipping)

Price per page

Ordering

Distributed

20

2019

2019

$575

$.08

19

2018

2018

$550

$.08

18

2017

2017

$450

$.09

17

2016

2016

$490

$.07

16

2015

2015

$360

$.09

15

2014

2014

$360

14

2013

2013

$310

$.08

13

2012

2012

$310

$.08

12

2011

2011

$340

$.10

11

2010

2010

$280

$.08

10

2009

2009

$235

$.08

9

2008

2008

$235

$.08

8

2007

2007

$235

$.08

7

2006

2006

$225

$.08

6

2005

$200

$.10

5

2005

late 2003 and 2004

$200


$.12
Institutions and individuals can order the current and certain past volumes of JMLR using the order buttons above.

Subscription agents, distributors, and sales representatives, please see the distributor information.
All articles in JMLR are available for free from the journal web site. The entire contents of the print-archive edition can be downloaded from the links in the "Distributed" column in the table above.
See here for rights and permissions information.